Breaking
Breaking is an exhibition platform at the Fotografisk Center. This space will show a series of exhibitions with photography by upcoming photo artists, paving the way for new trends in Danish and Nordic photography. The exhibitions are curated by the Fotografisk Center's employees: Allette Sørensen, André Hansen, Victor Meyer and Mynte Corell.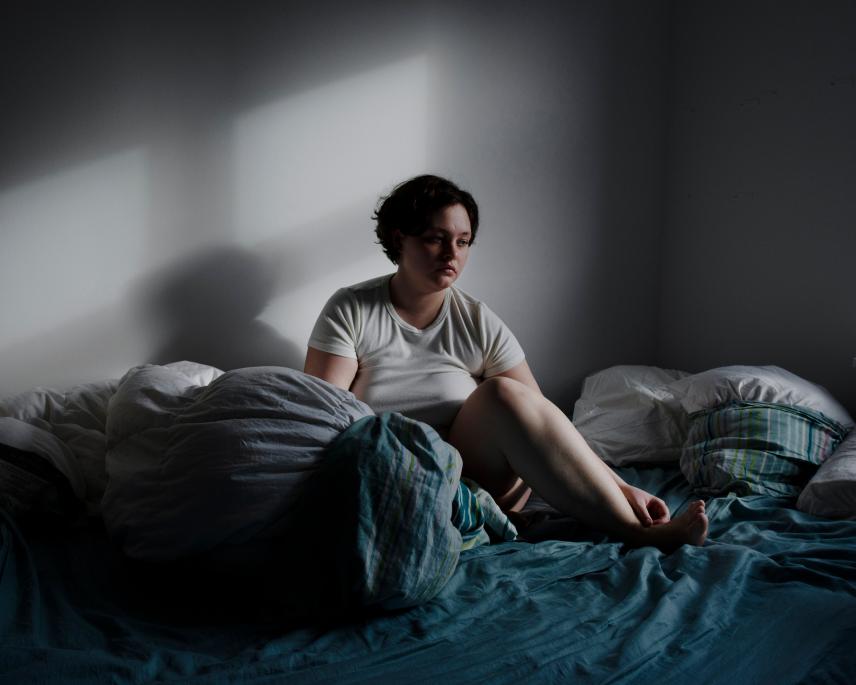 I woke to my heart beating in my ear
I woke to my heart beating in my ear
Emily Louise Beresford
18.06.-18.09.22
Opening 18.06.22 from 4-7 pm.
I woke to my heart beating in my ear, Torbjørn lying beside me still sleeping. For a moment I wasn't sure if it was his heart, or mine I felt. 

From bed, I watch the sun creep across the wall until it disappears. Time moves, I watch. My hair grows and is cut, I gain and lose weight, my skin is flushed and then pale again.

These photographs are my confidantes. They track my steps through my home, see light move and feel time pass.

Emily Louise Beresford
In the exhibition, I woke to my heart beating in my ear, Emily Louise Beresford presents an intimate vision of a quiet life. With a delicate and tender eye, Emily captures light and the quotidian of her own home and private world. 

The bustle of time appears distant in a universe where light sets the pace, and where a tenderness for the repetition of the everyday, makes room for a fascination with the tracks time leaves behind. 

Emily Louise Beresford (DK/USA) received a BFA in photography from Bard College in New York in 2018.
I hover horizontally behind you
Photographs by Asbjørn Sand
12.02.-12.06.2022
The exhibition I hover horizontally behind you is the latest from Asbjørn Sand following his book Slip. Much has changed since the release of Slip, both in the world and privately for Asbjørn, but he still uses his life to dictate the direction of his photography.
I hover horizontally behind you examining two bodies - a body changing during pregnancy and a body trying to understand itself from this new reality. Through photographs of everyday scenes and situations, life and the transition between two states, from being two individuals to being someone's parents, are shown. The works are snapshop photographs by Asbjørn Sand in collaboration with his partner, where they take turns to take on the role of photographer and through this exchange, we get unique perspectives on the changing identity, the ambiguous experience of becoming a parent and the transition from expectation to reality.
Unsettled City
M.H. Frøslev
02.10.21 - 06.02.2022
"Jeg tror på fotografiet som en sindstilstand. Som fortæller leder jeg efter et sted, jeg kan forholde mig til og som bevæger mig. Jeg fotograferer for at lære at forstå min længsel, mit nærvær, min kærlighed og min frygt. I Sankt Petersborg og Moskva er jeg blevet konfronteret med mig selv, og den konfrontation gav mig lysten til at skabe et fotografisk sindbillede på metropolens hvileløse tilstand". - M.H. Frøslev
Unsettled City er en personlig skildring af et klaustrofobisk miljø med bybilledet som ramme, indfanget i byerne Sankt Petersborg og Moskva over de sidste ni år. Igennem 95 kontrastede monokromer og støvede farvebilleder udfolder bogen natten som motiv. Gennem urovækkende stemninger og rå følsomhed viser Unsettled City, hvordan mørkets folkefærd skiftevis elsker og frygter både byen og hinanden. Her eksisterer ensomheden og længslen efter intimitet. Med denne bog skildrer den danske fotograf M.H. Frøslev erfaringer som fremmedgørelse, ulighed og smerte på lige fod med kærlighed, beundring og fascination.
I kontrast, i en diametral modsætning til Unsettled City's poetiske udtryk har M.H. Frøslev i denne visning af værkserien valgt at inkluderer dagen i et gråt og forladt lys, med alt den passivitet som dem, der lever bedst om natten, forstår dagens tomhed og trivialitet. Mellem disse to udtryk, mellem dagen og natten skildrer M.H. Frøslev følelseslivets perpleksitet i et nuanceret møde af kontrast.
"Som fotograf har jeg tit stået på et gadehjørne og betragtet hvem der passerede. Jeg begyndte at fotografere de gadehjørner, hvor jeg egentlig stod og så verdenen foran mig. Det blev for mig en måde at gøre min egen selvforståelse som fotograf mere håndgribelig. Gadehjørnet er blevet mit billede på 'øjeblikket i mellem' to virkeligheder, og sætter mit personlige møde med metropolens hvileløse tilstand i perspektiv overfor gadehjørnets urokkelighed, som derfor bliver mit anker." M.H. Frøslev
Views
25.07-29.09.21
Mai S. Keldsen (DK) is educated from The Royal Danish Academy of Fine Arts in 2020. With the project Views, she has focused on the natural- and cultural landscapes she herself has grown up amongst and aims to examine and connect aesthetic, historical, spiritual and cultural aspects of geographies such as Møn, Mols Bjerge, Læsø and Havreholm.
There is mystery and magic in Mai's pictures. In twilight and moonlight, she reinterprets landscapes that agriculture and industrialisation otherwise often have left in a cold and demythologised light. With Mai's visuel reflections, an element of wonder is returned to these places and we are reminded of past times' use of the landscape for herbal medicine, rituals and myths. But her pictures can also be seen as an extension to our time today, and as a question for our contemporary view of nature and an reminder to look twice at the surroundings we are ourselves most familiar with. Fantasy and reality mix in Mai's pictures and they are almost technically inexplicable, because they are made entirely at the time of shooting, with no subsequent use of photoshop.
Rågsved
Angelica Elliott (SE)
"I needed to move, start again. It was seven years ago, after a traumatic loss. My new home became Rågsved, south of Stockholm. I started taking photographs of my everyday life, my friends and people who live here. I wanted to get to know the place – and myself again."
- Angelica Elliott
Elliott's debut photo book 'Rågsved' has recently been published by the acclaimed publisher Journal. For years, Elliott has photographed her personal journey and home in Rågsved, a suburb she moved to start over in her life. It has been her way to find herself again, after experiencing a trauma in her life. A vulnerable process that requires enormous strength - and it shows in Elliott's pictures.
Intimacy and intensity are two strong elements that describe the way of how Elliott has portrayed her home, local environment, new and close relationships. It's like being there, an everyday life that is atmospheric an alluring, where the new surroundings go hand in hand with Elliott's contemplations and the search for stability in her life. For Elliott, is Rågsved more than a geographical location, it's a turning point where she found home in herself again.