BREAKING
BREAKING is a new exhibition project in Fotografisk Center's library, curated by André Hansen, Alette Sørensen and Victor Meyer. In the corner of our large selection of photo art books, can you from now on see photographs of upcoming photo artists, which paves the way for new trends in Danish / Nordic photography. We have selected photographers who work and express themselves differently in their photography. Together they have a high aesthetic level, and manage to be quality conscious, they have their very own visual standpoint. We want to create a space for upcoming photographers and their work, in a well-established art institution here at Fotografisk Center. BREAKING is independent exhibition project in relation to FC's main exhibitions.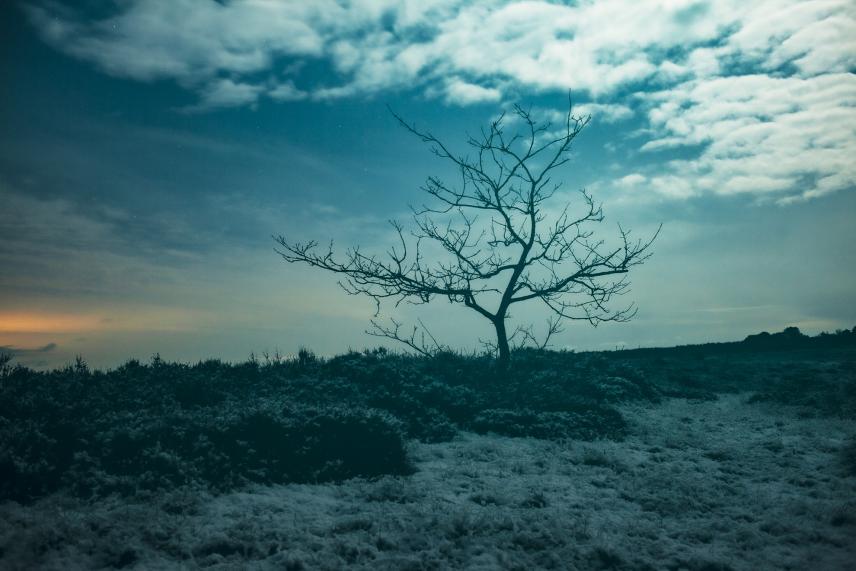 Views
25.07-29.09.21
Mai S. Keldsen (DK) is educated from The Royal Danish Academy of Fine Arts in 2020. With the project Views, she has focused on the natural- and cultural landscapes she herself has grown up amongst and aims to examine and connect aesthetic, historical, spiritual and cultural aspects of geographies such as Møn, Mols Bjerge, Læsø and Havreholm.
There is mystery and magic in Mai's pictures. In twilight and moonlight, she reinterprets landscapes that agriculture and industrialisation otherwise often have left in a cold and demythologised light. With Mai's visuel reflections, an element of wonder is returned to these places and we are reminded of past times' use of the landscape for herbal medicine, rituals and myths. But her pictures can also be seen as an extension to our time today, and as a question for our contemporary view of nature and an reminder to look twice at the surroundings we are ourselves most familiar with. Fantasy and reality mix in Mai's pictures and they are almost technically inexplicable, because they are made entirely at the time of shooting, with no subsequent use of photoshop.
Rågsved
Angelica Elliott (SE)
"I needed to move, start again. It was seven years ago, after a traumatic loss. My new home became Rågsved, south of Stockholm. I started taking photographs of my everyday life, my friends and people who live here. I wanted to get to know the place – and myself again."
- Angelica Elliott
Elliott's debut photo book 'Rågsved' has recently been published by the acclaimed publisher Journal. For years, Elliott has photographed her personal journey and home in Rågsved, a suburb she moved to start over in her life. It has been her way to find herself again, after experiencing a trauma in her life. A vulnerable process that requires enormous strength - and it shows in Elliott's pictures.
Intimacy and intensity are two strong elements that describe the way of how Elliott has portrayed her home, local environment, new and close relationships. It's like being there, an everyday life that is atmospheric an alluring, where the new surroundings go hand in hand with Elliott's contemplations and the search for stability in her life. For Elliott, is Rågsved more than a geographical location, it's a turning point where she found home in herself again.