Ung dansk fotografi '09
–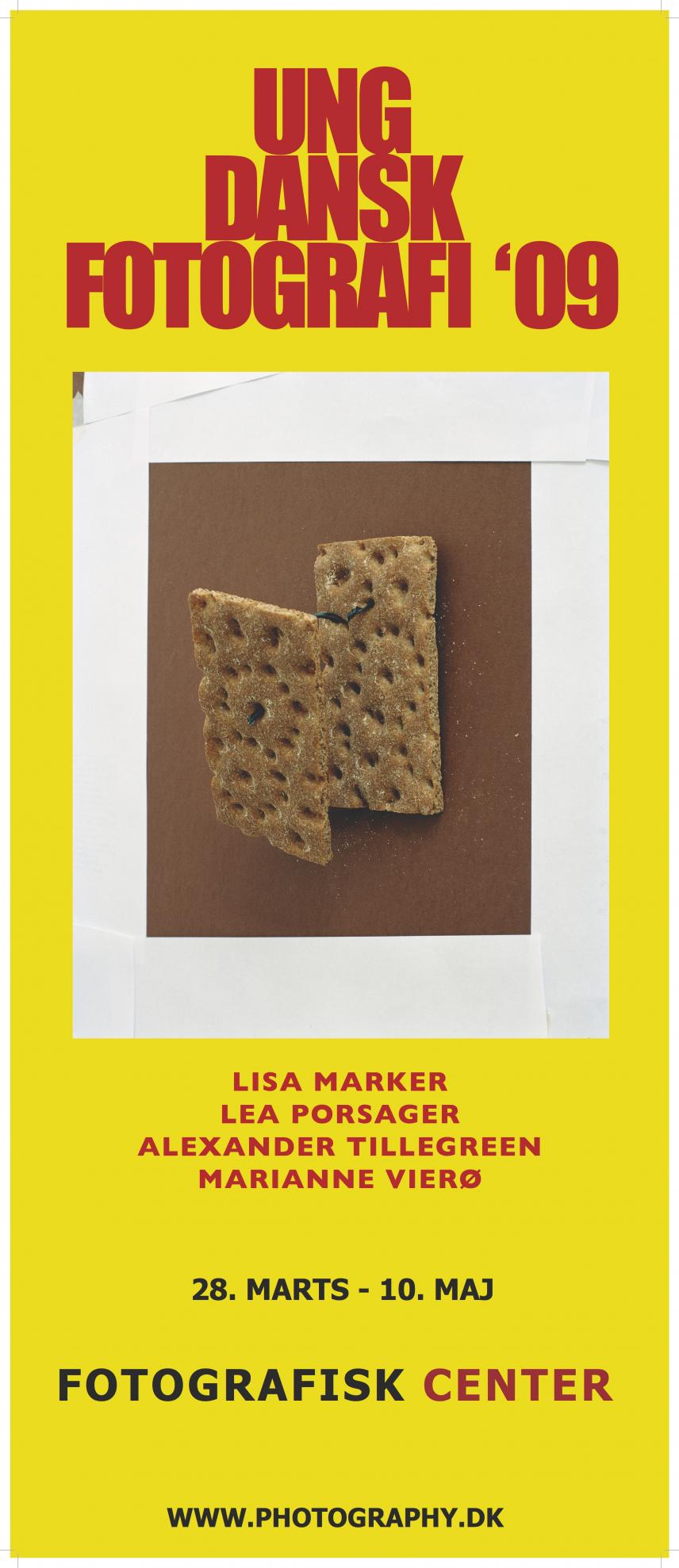 Lisa Marker, Lea Porsager, Alexander Tilegreen, Marianne Vierø.
Fotografisk Center is proud to present Young Danish Photography '09, the tenth in a series of book publications and exhibitions that have been produced since 1998.
When we started back in 1997/98 we had no idea that Young Danish Photography would become the institution it is today and also become one of our best-visited exhibitions through the years. Time passes and this year, our tenth anniversary, one of the photographers born in 1991 would have been 7 years old when Jacob Fuglsang Mikkelsen, Charlotte Haslund-Christensen and others hung their work in our gallery in early December 1997.
Young Danish Photography's primary aim is to present, produce and promote photography among a younger generation of artists in Denmark. Not only to focus on the newer tendencies in photography, but rather to create a qualitative forum for young photographers and artists.
Lisa Marker (1979) lives in Bruxelles and has an MA from Goldsmith College, University of London. Her series 'Workmode' is an analysis of the relationship between the individual, the uniform and space. The series comprises a wide range of portraits of people at work wearing their working clothes, from doctors to cleaning assistants, covering people from South Africa to Denmark.
Lea Porsager (1981) is currently studying at the Royal Danish Academy of Fine Arts and the Städelschule, Frankfurt. Her work is impenetrably dark, as if concealing something, just like the fragmented text 'LP's Transcript of a Letter....' where black boxes block out passages of text. Recurring themes in Lea Porsager's work are the occult, hypnosis induced art, lookalikes and the mythical.
Alexander Tillegreen (1991) is the youngest contributor in Young Danish Photography's history. He combines photography and sound in such a fashion that the audio reverberates in relation to the images. With 'Evergreen Stereo Experience' Alexander Tillegreen uses the classic triptych set up where he juxtaposes a dreamy horizontal image with two vertical images that appear identical though have a shifted viewing perspective.
Marianne Vierø (1979) is educated at Gerrit Rietveld Academie, Amsterdam and TAIK, Helsinki. Her series 'Even Gun Metal Grey has a Shade of Blue' presents us with an array of objects depicted in clear, clean compositions on even-coloured backgrounds. On closer inspection they reveal compositions out of balance on a background color that penetrates and permeates the objects in question.
Udstillingen er gjort muligt ved støtte fra: Københavns Kommune, Statens Kunstfond, DGI Byen, DJ:Fotograferne & Husted Vin.